REIGNITE YOUR JOIE DE VIVRE AT FESTIVAL DU VOYAGEUR
Author: Chantal Vielfaure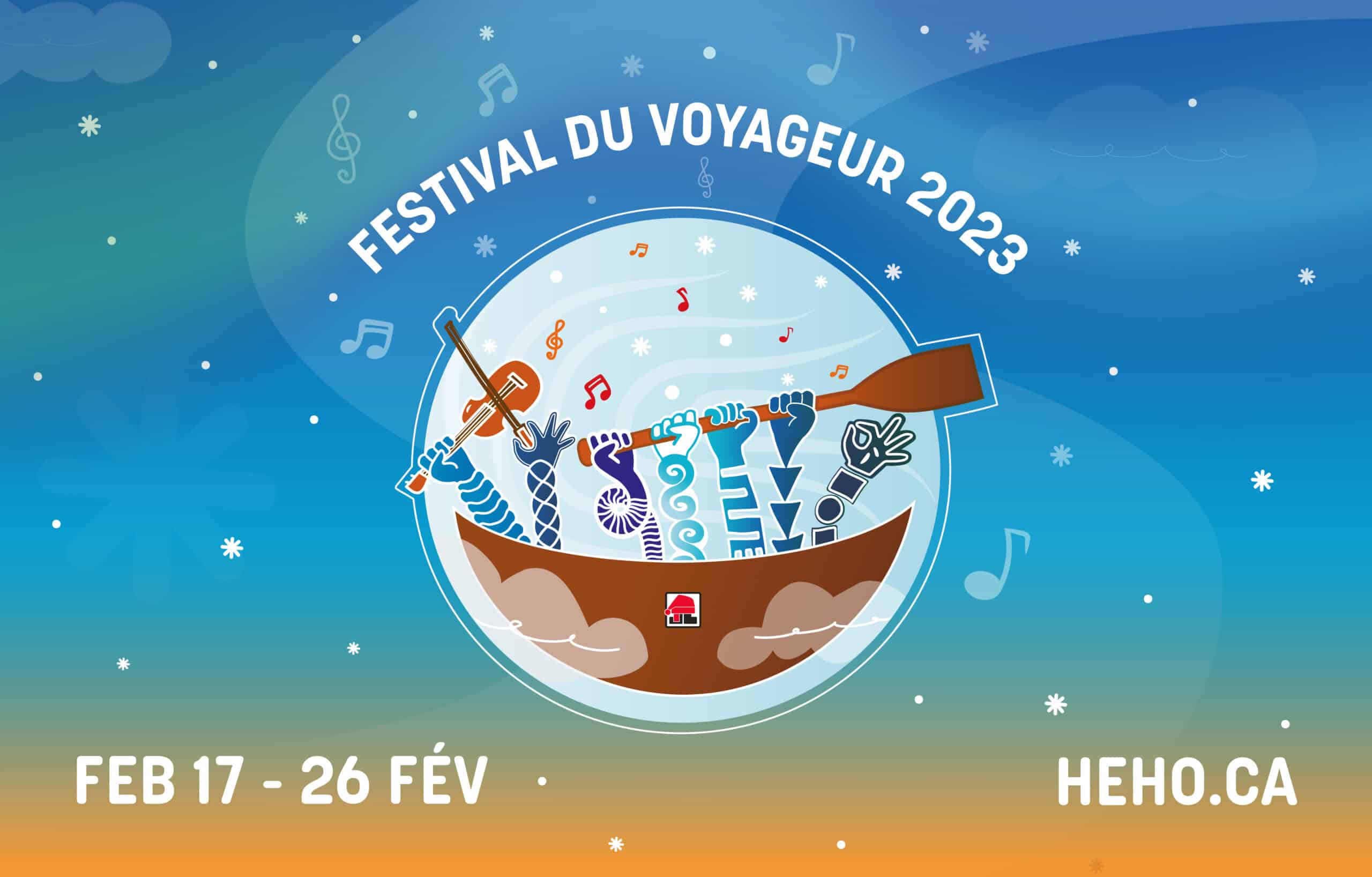 Unveiling of the 2023 program and the return of the winter festival
Saint-Boniface, Tuesday, January 17, 2023 – The 54th Festival du Voyageur promises to be festive! After a few challenging years of modified festivals, this year's edition is back in full swing. From February 17 to 26, we invite all Manitobans to make their way to the Parc du Voyageur to celebrate joie de vivre and French-Canadian culture!
"We look forward to welcoming festivalgoers from all walks of life to rediscover Western Canada's largest francophone event," says Darrel Nadeau, Executive Director of Festival du Voyageur. "This edition no doubt has something for everyone with the largest number of artists in the festival's history as well as the return of our favorite family activities. In addition, we are putting together several new activities that will undoubtedly create special moments that only an in-person experience can offer."
Music abounds at this year's festival with over 200 artists at Parc du Voyageur and our various venues. On the bill is a diverse line-up of national stars and emerging local artists. Francophone artists not to be missed include Louis-Jean Cormier, Marie-Pierre Arthur, Édith Butler, Michel Pagliaro, LGS (Le Groupe Swing), les Rats d'Swompe, Radio Radio, Ça Claque!, Andrina Turenne, Kelly Bado, Jérémie and the Delicious Hounds, Dr. Henry Band, among others.
At Parc du Voyageur, festivalgoers will finally find the warm atmosphere of the heated tents, which will be even larger this year. They will be filled with the familiar scent of wood chips and traditional French-Canadian food. And of course we can't forget about the deliciously sticky maple taffy, a staple of the festival.
In the heart of the park, festivalgoers will gather around the warmth of the Infinity Fire and share stories while viewing the Indigenous art installations that will be placed in various locations.
Outside the tents, a full return of the children's activities, historical interpretation in Fort Gibraltar and snow sculptures including the International Snow Sculpture Symposium and new interactive sculptures that will allow the public to become part of the frozen masterpieces. The Boîte à chansons – mobile concert trailer – has found a home in the new Terrasse à chansons where festivalgoers can warm up by dancing and having a good old shot of caribou in a glass of ice or a delicious Festi Broue!
The Festival du Voyageur is very grateful to all of its partners, sponsors and funders who make this event possible. A special thank you to the Governments of Manitoba and Canada, the City of Winnipeg, Musicaction, Air Canada, Bell MTS, Caisse Financial Group, Canada Life, Fairmont Winnipeg, Liquor Mart, Nonsuch Brewing Co., Outfront, Sirius XM, Université de Saint-Boniface, CCFM, SFM, Radio-Canada, CTV, Winnipeg Free Press, Prairie Mobile Communications and Roquette.
For full details on the wide range of music programming, activities, art installations, and special events at the official relays, visit heho.ca or download the 2023 Voyageur Festival mobile app.
– 30 –
For questions or interviews, contact:
Chantal Vielfaure
Director of Marketing, Communications and Sales
[email protected] | (204) 258-2560

LARGEST MUSICAL PROGRAMMING IN THE HISTORY OF THE FESTIVAL
Over 200 Manitoban, Canadian and international artists will perform on the stages of Parc du Voyageur and its official sites, making it the largest line-up of musical artists ever! Nostalgic, contemporary and emerging, the line-up offers an abundance of choice for festivalgoers to discover talented artists.
Big names on the bill include Boy Golden, (founder of The Church of Better Daze), Joey Landreth (one of the most impressive guitarists), Scary Pockets (dynamic funk band), Olivia Lunny (rising star of the alt-pop scene), Ralph (Swiss Army knife of Canadian pop music), Roman Clarke (Winnipeg multi-instrumentalist), Tom Jackson (renowned folk singer), Susan Aglukark (recording star), Busty and The Bass (electro/soul/hip-hop collective), Terra Lightfoot (Canadian roots rocker), The Duhks (Canadian folk fusion band), among others.
Returning in 2023, festivalgoers will be able to travel to the CCFM to attend the energetic Soirée Cajun (Cajun Night) at the Relais du Voyageur presented by Air Canada or to Parc du Voyageur to participate in Petit Canada in partnership with CJP and supported by the Asper Foundation.
INDIGENOUS INITIATIVES IN THE HEART OF PARC DU VOYAGEUR
In collaboration with Becca Taylor and 15 local and national Indigenous artists, Festival du Voyageur will present an immersive experience through physical and digital visual art installations in mural and video projection formats, among others. Festivalgoers will also have the opportunity to discover Winter Stories told in Indigenous languages.
The Infinity Fire is back and will serve as a gathering place honouring the Red River Métis people around two campfires. The walls of the Infinity Fire will be decorated by a Métis art installation designed by local artist Candace Lipischak.
The Festival continues to offer unique ways to explore new artistic creations and celebrate Indigenous cultures.
The previous Indigenous initiatives are made possible through the support of Air Canada and Parenty Reitmeier.

MORE SNOW, MORE SCULPTURES!
Originality knows no boundaries at Parc du Voyageur! The Festival is challenging itself to create even more large snow sculptures thanks to the support of Prairies Economic Development Canada.
For selfie enthusiasts, there will be an immersive feature that allows the public to take pictures of themselves with giant snow sculptures of forest animals. With the goal of developing the talents of the next generation of snow sculptors, the P'tchi Symposium presented by the CJP and supported by Volvo Cars Winnipeg will also finds its way back to the park.
Perhaps the most anticipated attraction is the International Snow Sculpture Symposium presented by Westland Insurance. Teams from across the country will travel to St. Boniface to shape Manitoba's snow into stunning works of art.
NEW! TERRASSE À CHANSONS
The Boîte à chansons, a mobile concert trailer, has found a new location outside in the Terrasse à chansons. There, festivalgoers will be able to dance, eat, drink, and warm up with bonfires while listening to good music. During the day, a family and traditional music program and in the evening, local DJs such as the Always Dale: Groove Garden and DJ Unpier.
FREE CONCERTS AT THE FORKS (BOÎTE À CHANSONS)
From February 3 to 5, the Boîte à chansons will be visiting the Forks for free concerts! Terra Lightfoot (JUNO nominated rock musician), Harpoonist feat. Gordie Johnson (well-known member of blues/reggae rock band Big Sugar), and Jane and Kyle (violin virtuosos) will offer performances not to be missed. Full program and schedule to come on heho.ca.

OFFICIAL SITES
Relais du Voyageur presented by Air Canada

Come to the Centre Culturel Franco-Manitobain (CCFM) for a variety of performances, fiddling and jigging contests, Soirée Cajun, and community luncheons presented by Craig & Ross.

After Festi

For those who want to keep on celebrating in the last hours, head to Après Festi at the CCFM for diverse and engaging programming.

Relais du Vieux Loup

This Relais finds its way back to the Belgian Club for an energetic Kitchen Party, a classic Canot evening, a pancake breakfast, and a Werewolf After-Party.

Auberge du Violon

Let's dance! The Union nationale métisse Saint-Joseph du Manitoba invites you to dust off your dancing shoes and head to the basement of the Cathedral for some good ol' ziguezon zinzon and delicious Métis food.

Relais des pionniers

If you're looking for a delicious Voyageur Brunch or pancake breakfast, this is the place for you!

The Riverside: Tap and Table

This new official site offers evenings filled with local talented artists, warm atmosphere and good drinks.

Nonsuch Brewing Co.

As the official beer partner of the 2023 Festival, Nonsuch offers tasty food and craft beers that appeal to all tastes – including Festi Broue! HÉHO!

ACTIVITIES, FOOD AND BEVERAGES
The young and young at heart will enjoy the many outdoor and indoor family activities offered, such as:
Historical interpretation presented by the Université de Saint-Boniface
Children's playground and large slide presented by Manitoba Hydro
Horse-drawn sleigh rides and snowshoeing
Ice Carving Workshop presented by Save on Foods
Wood Carving Challenge presented by Qualico Communities
Fayt à la Min Workshops
Louis Riel Day – Beading Circle and Métis Parade in partnership with the Union nationale métisse Saint-Joseph du Manitoba
Brasserie du Bourgeois – traditional food and beverages from local microbreweries
Fiddling and Jigging Contest presented by Power Corporation of Canada and Wawanesa
Pea Soup Competition presented by Roquette
Beard Growing Contest at the Marion Hotel
Maple Taffy
Many local food vendors
A NEW TICKET STRUCTURE
In order to better manage capacity, reduce line-ups and provide a more enjoyable experience for festivalgoers at Parc du Voyageur, the Festival has implemented a new ticketing structure.
Four types of tickets are now available:
Unlimited access to Parc du Voyageur from Friday, February 17 to 26 (during open hours)
Evening admission (18h-midnight)

Thursday, February23 (Petit Canada)

Friday, February 24 (Canada's Walk of Fame)

Day admission (10h-17h)

Monday, February 20 (exceptionally open until 7pm)

Day + evening admission (10h-midnight)
Tickets are available online at www.heho.ca, from the mobile application, and at the Festival du Voyageur office (233 Provencher Blvd)
Please note: Payments inside Voyageur Park and official sites will be made by debit or credit card only.
DOWNLOAD THE OFFICIAL MOBILE APPLICATION
The Festival du Voyageur 2023 mobile application contains all the latest details on Western Canada's biggest winter festival. Artists, shows, activities, merchandise, venues, ticketing and practical information, festivalgoers will find all the answers to their questions. Download the application on Android and iOS.
Website | Facebook | Instagram (@fdvoyageur) | TikTok (@leolatuque)
CANADA LIFE SCHOOL PROGRAM
Festival du Voyageur's Canada Life School Program in back in-person and will offer a full range of programming and activities to schools. This program highlights the history, cultures, languages and, of course, the joie de vivre of our ancestors! Students will be entertained with activities, music, presentations, and craft kits covering a range of topics such as voyageurs, canoes, Manitoba mammals and more. Live virtual presentations from Fort Gibraltar will also be offered again this year.